LED Indicator Panel
The M1 indicator panel provides system status via orange, green and red illumination in various stages of solid or flashing.
eg. The GPS icon flashes green momentarily when a fix is acquired and returns to solid green after a few seconds.
The VHF icon indicates VHF, AIS and DSC as these functions are all connected to the same AIS/VHF antenna.
Power ON is indicated with white light.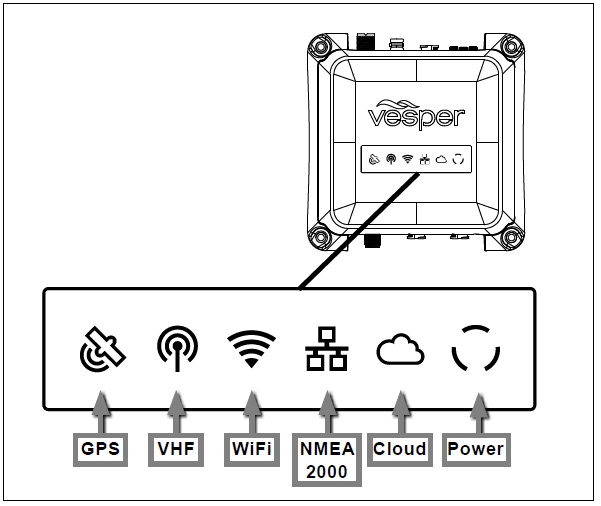 LED Icons
GPS

| | | | |
| --- | --- | --- | --- |
| FUNCTION | COLOR | STATE | DESCRIPTION |
| GPS | Orange | Solid | Acquiring a GPS fix. |
| GPS | Green | Solid | Flashes green momentarily when a fix is acquired; returns to solid after a few seconds. |
| GPS | Red | Solid | GPS Antenna short detected. It may also indicate a GPS system error, contact Vesper marine technical support if this state persists. |
VHF

| | | | |
| --- | --- | --- | --- |
| FUNCTION | COLOR | STATE | DESCRIPTION |
| VHF | Orange | Solid | Initializing Before the M1 can transmit it requires 1 minute to initialize. MMSI not programmed A valid MMSI must be programmed before you may transmit your position. (see To program your MMSI number section) Stealth mode Stealth mode is on. Last position report not sent This may happen from time to time in very busy areas with lots of AIS traffic. This is normal behaviour for a Class B AIS device. |
| VHF | Orange | Flashing | AUX VHF is transmitting. |
| VHF | Green | Solid | Normal AIS + VHF Operation. |
| VHF | Red | Solid | A VHF/DSC/AIS System Check has failed. Contact Vesper Marine technical support. |
| VHF | Red | Flashing | Antenna short circuit or open circuit detected - may also indicate a high VSWR. |
WiFi

| | | | |
| --- | --- | --- | --- |
| FUNCTION | COLOR | STATE | DESCRIPTION |
| WiFi | Orange | Solid | WiFi ready and waiting for connections. |
| WiFi | Green | Solid | At least one device is attempting to join or has joined the network. |
| WiFi | Red | Solid | WiFi not operational. Contact Vesper Marine technical support. |
NMEA 2000

| | | | |
| --- | --- | --- | --- |
| FUNCTION | COLOR | STATE | DESCRIPTION |
| NMEA 2000 | Orange | Solid | NMEA 2000 bus network is not connected or not powered on. |
| NMEA 2000 | Green | Solid | NMEA bus connected and exchanging information with the M1. |
| NMEA 2000 | Red | Solid | NMEA 2000 bus error detected. Check the integrity of the NMEA network cable and terminating resistors. |
Cloud

| | | | |
| --- | --- | --- | --- |
| FUNCTION | COLOR | STATE | DESCRIPTION |
| Cloud | Orange | Solid | Attempting to connect or connected to a cellular network. |
| Cloud | Orange | Flashing | Flashes when attempting to connect to the Vesper Cloud. |
| Cloud | Green | Solid | Connected to the Vesper Cloud. Note - on the Lite plan it will only connect every 12 hours for 10 minutes. |
| Cloud | Red | Solid | An unexpected Vesper Cloud connection error has occurred. Contact Vesper Marine technical support if this state persists. |