The Cortex Hub includes an internal heading sensor, for use when an external heading device is turned off or not available (e.g. if the autopilot is turned off). The internal heading is used in AIS position reports, anchor watch bow position corrections, and wind direction calculations.
To use, the internal heading the sensor must be calibrated. Much of the information is calibrated automatically once the vessel is underway, where the Hub will learn the correction offset, its installation orientation and any magnetic effects from other objects or instruments near it.
To speed this process up a configuration menu is provided under Sensors>Heading. While underway, do a full 360 degree turn. Once enough data is collected during your turn you will get a message "Calibrating... hold your course for 5 seconds. If an external heading sensor is not connected assure that the SOG is greater than 3 knots." During this stage the Hub calculates an offset correction to the bow of the boat. Either an external heading or the Hub's COG need to be stable before they are can be used as an offset correction source.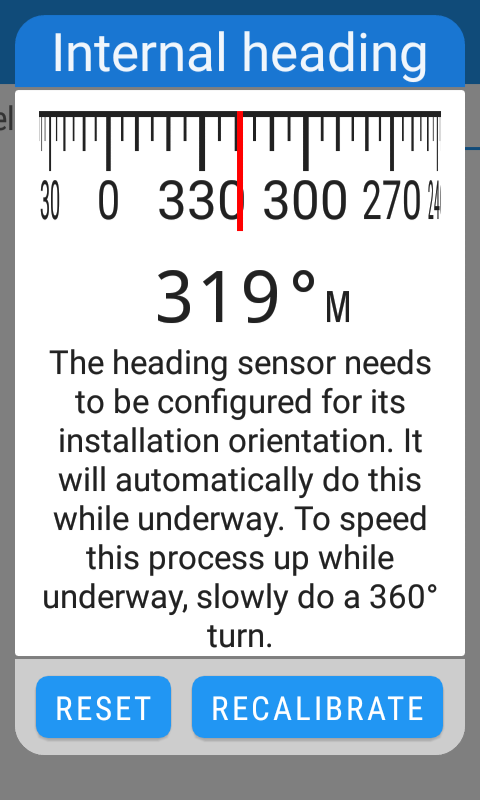 You can repeat this process, for instance if the Hub is moved or repositioned in the boat.
A Reset will clear out all the bias and orientation data, requiring you to start the process from the beginning. This is only recommended if you have moved the Hub, changed its installation orientation, or something else in the Hubs environment has changed.
Recalibrate will only re-compute the bow offset correction using either and external heading or the Hub's COG, but keeps all the magnetic model data.