The Cortex Hub can be configured to use an existing WiFi network on board the vessel to connect to the internet. It allows smart devices to remain on a shared network with connection to other systems, or an external data source via cellular or satellite. Additional Cortex Handsets can also be connected. This can increase the number of Handsets available in a single Cortex system, or increase the range around the boat.
Setting up Boat Network
You can set up Boat Network from a Cortex Handset of the Cortex Onboard App. Main Menu. (
) Select the wrench icon (
) to open the Configuration Menu. From the Networks page, select WiFi.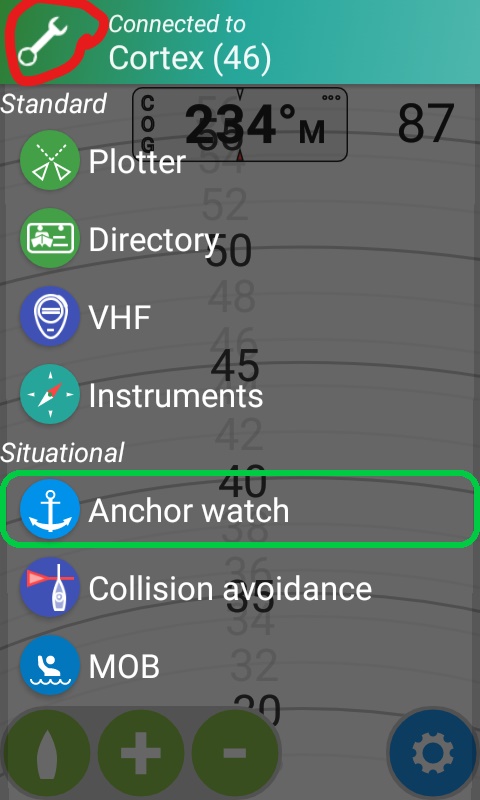 From the Boat Network block, choose Configure. Input the credentials for your Boat Network.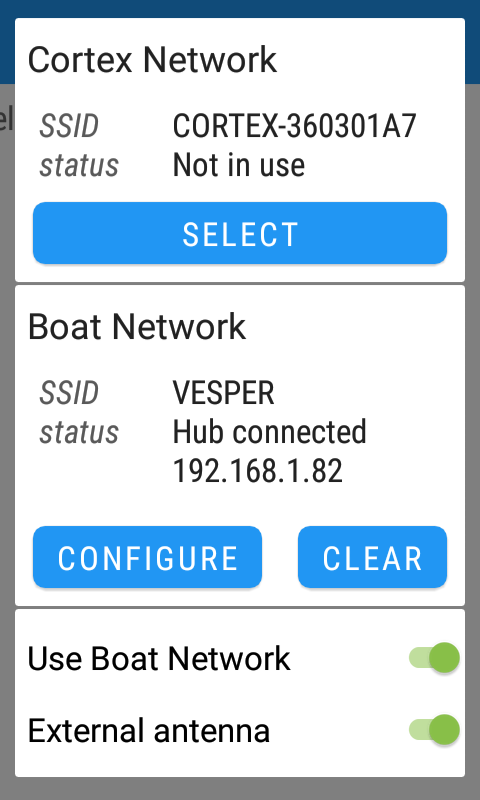 Turn Boat Network On/Off
Once the Cortex Hub is configured to connect to the Boat Network, you can toggle Boat Network On or Off. Green indicates Boat Network is On. Grey indicates Boat Network is Off.
When Boat Network is On, Cortex Handsets and devices using the Cortex Onboard App will be able to access the Cortex Hub fully.
Important: We recommend having at least one Cortex Handset on the Cortex Network. The Cortex Network will not have other device traffic on it and will therefore offer a more stable connection without the risk of poor performance caused by other systems.
Network Router Configuration
The Boat Network router must be able to support WPA2-PSK. Some routers may require some additional configuration to ensure Cortex data is accessible to Cortex Handsets and the Cortex Onboard app connected to it.
Ensure the following router ports are opened/enabled:
TCP port 8000. Required for normal communication between the Cortex Hub, Handsets and Cortex Onboard.
TCP port 80. Required for Cortex software upgrades and other features.
UDP port 39161. Required for VHF audio.
TCP port 39150. Optional, only required for 3rd Party Apps that access NMEA over WiFi.
Multicast (mDNS) enabled. Allows Cortex Handsets and Cortex Onboard to find the Cortex on the network.
WPA2 enabled. Cortex Handsets currently support WPA2 only. The Cortex Hub supports WPA2 and WPA3.