We believe MOB is important enough to deserve its own dedicated alarm system. One that provides an immediate alarm, a simple but powerful display that aids the crew in fast MOB retrieval without being a distraction from the task at hand, while also integrating with other systems on board.
The MOB button is dedicated solely to MOB mode, is labelled with human readable text rather than an ambiguous icon and is backlit so can be easily seen in all ambient lighting conditions. When pressed Cortex will immediately:
Sound an alarm using a human voice so everyone on board knows immediately what is happening.
Drop a waypoint using the current GPS position.
Broadcast the MOB event on the NMEA 2000 network using the MOB PGN 127233. This may also automatically trigger an MOB retrieval mode on some MFDs.
Display a dedicated situation screen for MOB retrieval. Range and bearing to the MOB is displayed, along with a suggested course to navigate back to them quickly. The water temperature and time since the MOB button was pressed are also available. The display is simple and clear with no unnecessary clutter, focusing solely on retrieval of the MOB.
Cortex is also an AIS transponder, so as soon as an AIS MOB position message is received, the track back changes to track the AIS MOB target instead using a different icon, but leaves the original dropped waypoint there for reference. It also sends AIS MOB position messages to the NMEA 2000 network.
Since Cortex is also a powerful VHF and DSC communication device, without having to navigate away from the MOB retrieval screen or go to another device, a VHF and DSC distress call can also be initiated.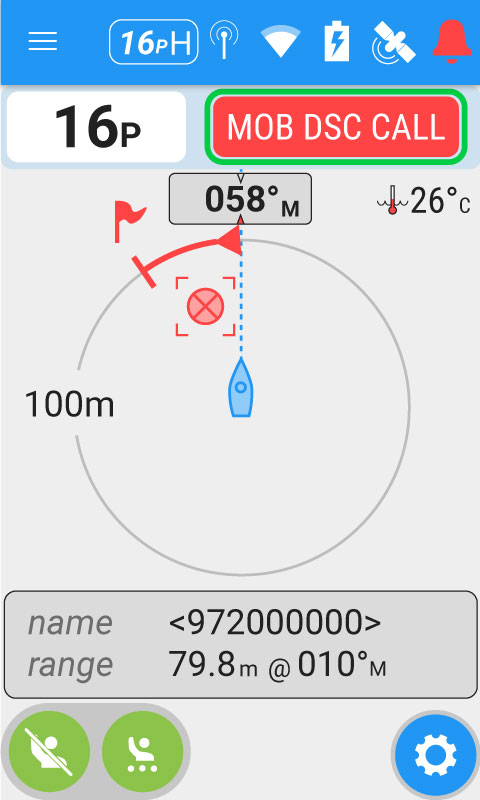 If the MOB event has gone unnoticed by crew but an AIS MOB is activated, when the first AIS safety message is received Cortex automates the pressing of the MOB button and the same functionality described above is immediately triggered.
You can also name your AIS MOB devices with the name of actual person they are worn by.