The external audio speaker output extends the audio output of the Cortex Handsets directly from the Cortex Hub. The external audio speaker output will broadcast VHF and system alarms. The external audio speaker output is perfect for Cortex M1 installations without a Handset, or where Cortex Handsets are powered down and you still wish to become alerted to alarm events on board.
To connect the external Audio Speaker to the Cortex Hub
Using the included 4-pin Audio Cable you can connect a 30W loudspeaker to Cortex. This same cable is also used for the external audio speaker output.
Wiring an Audio Speaker
Plug the 4-pin Audio Cable into the Audio Port.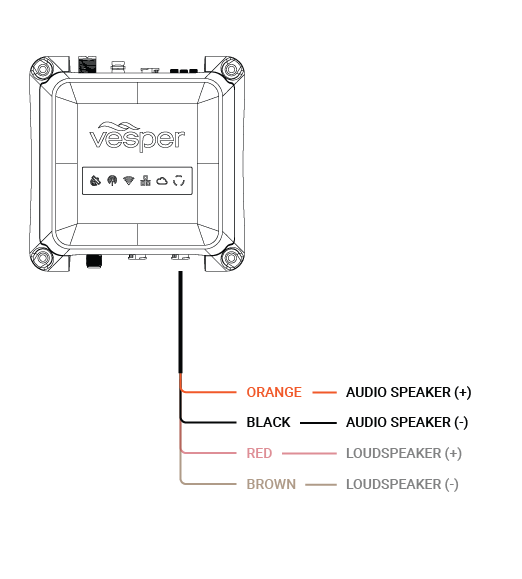 The 4-pin Audio Cable has 4 color-coded wires:
Orange - Audio Speaker Positive (+)
Black - Audio Speaker Negative (-)
Red - Loudspeaker Positive (+)
Brown - Loudspeaker Negative (-)
Using the Orange (+) and Black (-) wires, make a suitable connection to the External Waterproof Speaker or a suitable alternative. It is recommended to use a 10W rated audio speaker with a 4-ohm impedance.
Setting Audio Speaker Volume
Audio Speaker volume can be set at the desired volume using a Cortex Handset or the Cortex Onboard App.